By Psyche | June 8, 2010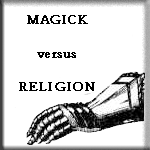 Over on The Great Tinines, Johnny Rapture1 asks "Who's Pagan?", inviting readers to post their definitions and lists of groups who qualify. I offered my definition, and in the course of discussion cartwheel asserted that:
No distinction between "magic" on the one hand and "religion" on the other has ever been made successfully.
This sounds like a challenge! The gauntlet has been thrown.
Back in 2008 we looked at various definitions of magick, but I still believe Crowley's remains the most elegant:
Magick is the Art and Science of causing change in conformity with Will.
This simple statement was further clarified by an extract from Magick Without Tears
:
Magick is the Science of understanding oneself and one's conditions. It is the Art of applying that understanding in action.
This firmly places the onus of on the magus hirself. Whatever model one is using: spiritual, energetic, psychological, cybernetic or meta – it is the responsibility of the magickian to effect change.
Religion, on the other hand, relies on a relationship between the individual and some form of external supernatural power (think Wicca, Sentianism, kaballah).
It's true, magick can be practiced within a spiritual framework, often in tandem with religion, but it is by no means necessary and conflation of the two is in no way desirable.
cartwheel raised an interesting question. This distinction works for me, what are your thoughts on this?
Footnotes:
Great name. [back]
Related posts:
Share