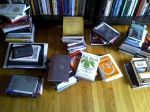 Thanks to everyone who responded to the call for reviewers on SpiralNature.com; that call is now closed.
We had a great response with more than a dozen people responding, and a good portion of the piles you see to your left have been sent off to the new review team. The reviews have already started coming back, which is excellent. Thanks guys!
While we're on the subject, it's been a couple of months since we last did a links round up of the reviews on our sister site, so here's what's new:
And wow, that's more than I had originally thought there were. Check 'em out, see what's new and worthwhile and maybe you'll find something you like.