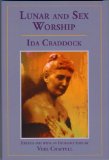 On Friday I posted about Sexual Outlaw, Erotic Mystic: The Essential Ida Craddock
, written by Vere Chappell and published by Weiser Books on December 1st, 2010.
Two other titles are also being released around the same time, the first in late October, and the second shortly after the publication of Sexual Outlaw, Erotic Mystic.
Teitan Press recently published Lunar and Sex Worship
, which was written by Ida Craddock and includes an introduction by editor Vere Chappell.
From the publisher's description: Continue reading »