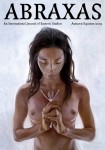 Fulgur and Treadwell's are jointly launching a new occult journal, Abraxas, billed as "a new independent journal of historical and contemporary occultism".
There will be two editions, a deluxe issue of 171 numbered copies which will include an original hand-printed wood engraving by Francesco Parisi, and a standard editions containing a letter-press printed Manifesto. (The standard edition cover is pictured on the left.)
As the journal will be printed by Fulgur I expect it will be gorgeous but, of course, they're not cheap. The deluxe edition will sell for £70, and the standard for £25.
From the description at Fulgur.co.uk:
Abraxas will offer the reader a rich resource of thought-provoking essays, vibrant art and poetic myth from some of the most inspirational thinkers, artists, writers, designers and practitioners working in the international occult community today. Here will be found perceptive articles, narratives of workings, mysterious photography, obscure magical text reprints, strange drawings and resonant lyric. Abraxas aims to be intellectually engaging, critically rigorous and visually inspiring. It will be a unique space where fresh insights emerge to feed the mind, imagination and soul.
The first issue includes contributions from Phil Hine, Stephen Grasso, John Callow amongst others and its official release date is September 22nd, though it may ship as late as mid-October.
Alas, I'll be in London September 11th-13th – a week too early, though I certainly intend to visit Treadwell's anyway, I won't be able to pick up the journal.
Fulgur's website indicates that this first printing will be their only printing, so get 'em while you can. If you can afford to.

Category: News & Shiny, Occulture
Tags: abraxas, fulgur, john callow, journals, magazines, Magick, Media, Occulture, phil hine, stephen grasso, treadwells, zines
Save & Share: Del.icio.us Digg Facebook Stumble it! Tweet