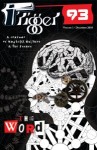 Launched in mid-December, Trigger 93 describes itself as "a radical new journal of literature, art, and the uncanny", one that "juxtaposes magic(k)ally informed works created by established artists and academics with similar works created by established practitioners of magic(k)". The journal is edited by Ayesha Adamo.
The first issue focuses on the Word, and includes contributions from Michael Taussig, James A Eshelman, Simryn Gill, Mikala Dwyer and Tamara Wyndham, amongst others.
The journal retails for 11$US and is available for purchase online.
I received a review copy a few weeks ago, and my review will be up shortly on SpiralNature.com.
It looks like a great new journal, and I look forward to reading future issues.
Update: Review has been posted here.