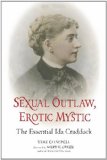 Sexual Outlaw, Erotic Mystic: The Essential Ida Craddock
, written by Vere Chappell, with a forward by Mary K. Greer, will be released in December by Weiser Books.
Not just a biography, in Sexual Outlaw, Erotic Mystic the author has compiled  "the most extensive collection of Craddock's work including original essays, diary excerpts, and suicide letters".
The keywords associated with this book are hot: "Sex, Magick, Aleister Crowley, Orgasms, Erotic Dances, Angelic Beings, Revolutionary Activism, Liberation, Persecution, Defiance, and Suicide." Intense.
From the book's description on the publisher's website: Continue reading »