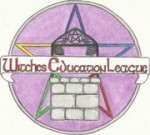 Mike Gleason is an incredibly prolific Pagan book reviewer who has written for a number of websites, among them SpiralNature.com. At the moment he's seeking volunteers to help out at the annual "Make-A-Wand" table weekends in October in Salem, MA.
The table is sponsored  the Witches' Education League, which is composed of the former members of W.E.B. and Project Witches Protection. Younger volunteers, in their late teens and twenties are especially needed, though they welcome volunteers of all ages.
From Mike:
I won't tie up space going into the details, but will simply say that if you enjoy being around enthusiastic children; don't mind getting glitter in places it really shouldn't be; and are prepared to offer 2 hours of your time to help raise money for charity and make children happy in the process, we would love to have you join us.

We operate (usually) from 11am to 5pm on Saturday and Sunday, every weekend during the month of October. We will also operate for a (mostly likely) reduced time span on Halloween.

We would like to have a couple of volunteers each day, and merely ask for a two hour commitment.

Please e-mail me [...] if you would like more details, or want to offer your help.
If you're in or near Salem, and you'd to help, please do get in contact with Mike, his e-mail address is included in the link above.