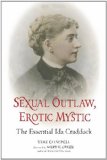 My review of Sexual Outlaw, Erotic Mystic: The Essential Ida Craddock
, by Vere Chappell (Weiser, 2010) is up on SpiralNature.com here.
Craddock was indeed a remarkable person, but some of her notions about what was proper are… Well, here's a quote from her 1900 treatise, "The Wedding Night":
To approach a woman's genitals with the finger for the purpose of excitation, is distinctly masturbative, and therefore wrong. The only lawful finger of love at her genitals is his sexual love organ.
It's almost cute.
Actually, Craddock's forthright approach to sex was fairly unique for its time, though much of what she wrote seems antiquated today it's still a fascinating read. Continue reading »