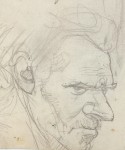 Weiser Antiquarian's fifty eighth catalogue titled "Austin Osman Spare. Books and Ephemera." features works by and about Spare.
Here you'll find first editions of Spare's work, as well as (more affordable) reprints, biographies and rare catalogues from art exhibitions.
I just bought a copy of Evolution, Volume One, by Stephen Pochin and two catalogues, Borough Satyr and Austin Osman Spare: Artist – Occultist – Sensualist which I'm very excited about.
It's also fascinating to see how much the prices have climbed for some of the works I already own. Geeze. If you're interested in Spare, and can afford to, buy while still can.
And hey, as an added bonus, it looks like Weiser Anitquarian now hosts a variety of RSS feeds so you can be notified of any new books that come in under your favourite categories. Neat.