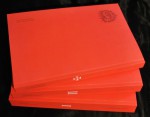 Back in July Scarlet Imprint announced their intention to create a line of books "simple affordable paperbacks" which will be published alongside their "hardback and fine editions".
The editions,  under the heading Bibliothèque Rouge, takes its name from the Bibliothèque Bleue tradition, which "changed the magical and social landscape of Europe by wresting books from the hands of the aristocrats, clerics and middle classes", by providing simple editions of otherwise prohibitively expensive deluxe editions of certain titles in their catalogue.
A preview was released in November (the picture on the left is taken from that post), and now they've been released.
Two Rouge titles are now in circulation, Geosophia: The Art of Magic, which sells for £17, and  The True Grimiore, which sells for £15; both titles are by Jack Stratton-Kent.
From the images available on the website, they look great, and at  a reduced cost they'll likely do well. It's a great idea, and I wish them the best.