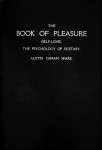 Jerusalem Press is releasing a new edition of Austin Osman Spare's The Book of Pleasure (Self-Love): The Psychology of Ecstasy in March 2011.
Last year Jerusalem Press published Cockney Visionary, to accompany a London exhibit.
This new edition of The Book of Pleasure will contain the original 1913 introduction by Ernest H.R.Collings and the 1975 introduction by Kenneth, as well as a brand new introduction by Alan Moore and an illustrated analytical magical essay by Michael Staley.
From the publisher's description:
"The Zos and the Kia, collective unconscious, Cosmic Mind – however we formulate it, this gnosis is at the heart of Spare's work from its articulation in The Book of Pleasure, to its development throughout his subsequent work." Michael Staley (from his essay)
"Spare's book is one of pleasure. It speaks of the joy and the accomplishment that are the natural right of any soul unburdened by the world's imprinted intellectual architectures and emotive double-binds … It is impossible to recommend this work too highly, so read on. Pleasure yourselves." Alan Moore (from his introduction)
The book will be published in two editions: a deluxe edition signed by Alan Moore and Michael Staley, and a standard edition. Price includes shipping, but varies depending on location. In the UK prices start at £44 for pre-orders.
Spotted on Lashtal.com.
Category: News & Shiny
Tags: alan more, austin osman spare, Books, ernest hr collings, jerusalem press, kenneth grant, Magick, michael staley, News & Shiny, Occulture, publishing, shiny
Save & Share: Del.icio.us Digg Facebook Stumble it! Tweet