By Psyche | August 30, 2010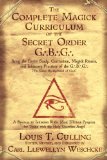 After more than forty years, Llewellyn Worldwide is re-releasing The Complete Magick Curriculum of the Secret Order G.B.G.: Being the Entire Study, Curriculum, Magick Rituals, and Initiatory Practices of the G.B.G., by Louis T. Culling.
The new edition has been edited, revised and expanded by Carl Llewellyn Weschcke, and, according to Donald Michael Kraig, is almost three times larger than the first edition, which was fewer than 130 pages. (This edition is 360 pages.)
From the book's description on the publisher's website:
Founded upon the revolutionary premise that High Magick can be distilled to a few powerful and efficient steps, Louis T. Culling's original edition of this classic magick book broke all the rules. [...]

Carl Llewellyn Weschcke, publisher of Culling's original edition of this book, offers illuminating commentary, definitions, and discussion points to render these profound magickal philosophies and practices even more accessible and relevant for contemporary magickal practice. This new edition is also an interesting philosophical commentary, answering a number of questions about historical occult orders and figures like Aleister Crowley.
The in-depth description offers more information on the last point: Continue reading »
Popularity: 6%
Comments: Leave a comment » | Trackback
Category: Magick,News & Shiny
Tags: aleister crowley, Books, c f russell, carl llewellyn weschcke, donald michael kraig, frater genesthai, gnosticism, i ching, llewellyn worldwide, louis t culling, Magick, News & Shiny, sex magick
Save & Share: Del.icio.us Digg Facebook Reddit Stumble it! Twitter