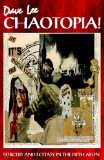 A new and revised edition of Dave Lee's Chaotopia!: Sorcery and Ecstasy in the Fifth Aeon
has been released by Mandrake of Oxford in a new expanded edition.
Lee has also launched a new blog, also titled Chaotopia!. At the moment it seems to house a few reviews; it'll be interesting to see the direction it takes.
While we're on the subject, chaos magick seems to be undergoing (another) revival at the moment. Phil Hine's Prime Chaos: Adventures in Chaos Magic
is also out in a new revised and expanded edition from Original Falcon. A review will be forthcoming.
Jason Miller's posted a call-out to chaotes over on Strategic Sorcery. Chaos magick – and chaotes – have changed quite a bit since the current's inception. Continue reading »