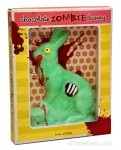 I think it just might be the Chocolate Zombie Bunny from ThinkGeek.
With the Ostara bunny representing the fertility of the coming spring, the chocolatl from the Mayan tradition, and resurrection of the dead found in Christianity – you arrive at a perfect cultural fusion for the season.
They do warn, however, that consuming this product "may or may not infect you with a zombie virus".
There's always a down side.