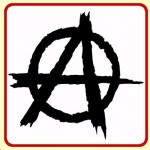 I first came across Siva Vaidhyanathan's excellent and wonderfully lucid book, The Anarchist in the Library: How the Clash Between Freedom and Control Is Hacking the Real World and Crashing the System
, via Wes Unruh's recommendation on Alterati.com.
It looks at the way we interact with information with a focus on ownership and distribution, arguing that the way we structure this can be boiled down into two essential forms: anarchistic and oligarchic systems.
Vaidhyanathan avoids cartoonish portrayals of anarchy, sticking largely to anarchy's core definition: the absence of recognized authority, rules imposed or enforced.  Oligarchic forms use the rule of the few, the elite who decide how and where information is distributed, if at all.  They set the the rules, and they hold all the cards.
The focus of this book is largely on the Internet and the ideological war between these two camps and how they will shape the future relating to how we interact with information and technology.  He writes:
The Internet was built according to cynical principles – borderlessness, unregulatability, peer-to-peer openness, and peer-review accountability – which also belonged to the realms of science and the academy.1
An approach which is slowly being eroded by legal battles over copyright, trademarks and claims to intellectual property.
I came of age with the Internet, its structure and implied politics played a part in shaping and defining my own.  I'm comfortable using it as a microcosm of how we view and interact with information in our world today, and – with an awareness I could be pining for a Golden Age – it's not what it once was.  It's become far more conservative and regulated, a trend I see extending beyond its boarderlessness.
Consider, for instance, sampling and the lawsuits that result, the rights to dead groups, and the recent trademark case.
In the 90s, there was this idealistic notion that "information wants to be free", file-sharing was (and continues to be) rampant, exposure to new music, new products, new ideas flowed freely and (for a time) happily.  Interests which were obscure or rare among the people you met over the regular course of your day were suddenly available at the click of a button.
So enthusiastic, it's adorable:
Anarchistic functions and methods have been around for many centuries.  Recently individuals have used widespread, low-cost, high-quality technologies to communicate, persuade, and organize over long distances, beyond the prying eyes of powerful institutions.  Digitization and networking make anarchy relevant in ways it has not been before.  Global electronic networks make widespread anarchistic activity possible.  What used to happen in a neighbourhood barbershop or on a park bench now happens across a nation-state or beyond.  Rumors can bubble up into action.2
Whether that action takes the form of Insurrection or conventions for comic geeks and furries or a myriad of newsgroups, e-lists, newsletters, forums, social networking sites and so on for magicians specializing in Renaissance alchemy: communication is available on a far broader scale than previously possible.
Geeze, just think of the number of occult e-books you've got pirated on your harddrive.
Kinda makes you wonder, Is it better that material be available no matter who profits, or that it is tightly controlled and remains unpublished or commented upon?  What motivates either response?
Either way, Vaidhyanathan argues that culture is a more intricate and lively thing than what it is most often mistaken for, writing:
The collection of end products of culture – the symphonies and operas, novels and poems that survive the rigorous peer review of markets and critics – are often taken as the culture itself.  Instead, culture is the process that generates those products.  If it is working properly, culture is radically democratic, vibrant, malleable, surprising and fun.3
Culture is not static: it is evolutionary:
If you assume culture is zero-sum, that it can be "stolen" or "sold," then you can't acknowledge that culture is anarchistic and emerges from common, everyday interactions among people and peoples.  Perhaps you see cultures as once sealed, now violated.  Perhaps you see culture, as nineteenth-century English critic Matthew Arnold did, as a stable set of ideas and expressions that define a society and demand a defense by elites.4
Does culture require protecting in this way?  What does that speak to?
Footnotes:
Category: Philosophy, Reviews
Tags: alterati, anarchist in the library, Anarchy, book, book review, Books, ethics, information, internet, oto, politics, review, Siva, Siva Vaidhyanathan, Vaidhyanathan, wes unruh
Save & Share: Del.icio.us Digg Facebook Stumble it! Tweet