Ok, so I received this copy of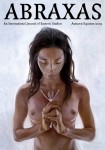 Abraxas back in September during my visit to Treadwell's. This review has been a long time in coming. What took so long?
Mostly, I wanted to do it properly. I didn't want to rush reading bits and pieces here and there, I wanted to really sit down and savour it.
Abraxas isn't just "An International Journal of Esoteric Studies", this first issue is also an art book. At 290mm x 232mm it's a large quarto, beautifully bound, and printed on high quality paper, including a handtipped sheet. Richly coloured paintings are beautifully reproduced, along with many lovely illustrations in monochrome. And then there's the text.
This first issue focuses largely on witchcraft, and while I can't detail every essay that appears, I would like to highlight several that I felt stood out in this already exceptional collection. Continue reading »