When I mentioned I would be visiting London in September, Christina sent me a friendly e-mail inviting me to visit Treadwell's Books while I was there. As I was already eager to do so anyway, I of course replied that I would.
Treadwell's is the sort of place I once envisioned owning back when I used to manage a bookstore. It's a small shop, but contains specific inventory.
It's not an strictly an occult shop, instead it specializes in cultural history, spirituality, esoteric belief, and yes, there are books on magick, but while they're prominent, they're not the only focus. I love this about it.
While there I picked up a few things (browse my recent adds on LibraryThing if you're curious) – it's impossible for me to go near a bookstore without doing so.
I also received an advance copy of the new occult journal Abraxas, which I am extremely excited about. Expect a review in the coming weeks.
Chatting with Christina was a delight, she's also a Crowley enthusiast whose very familiar with the chaos magick scene and an all 'round lovely person. If you find yourself in London be sure to stop by.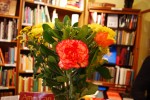 I bumped into T. Thorn Coyle, author of Kissing the Limitless
, on which she was giving a talk later that evening. (I received a review copy from Weiser, so expect a review of that in the next month or so, too.)
Indeed, Treadwell's regularly plays host to a variety of workshops, rituals and events of various types. Check out their events calendar for more.
Treadwell's Books is located at 34 Tavistock Street near Covent Garden. If you find yourself in London be sure to stop by.
I'd love to do more profiles of occult shops in the cities I visit. Or, if you have a great shop in your area you'd like to write about here, contact me and we'll see what we can do.
Hopefully this will be the first in a series of profiles on great occult shops around the world.
Category: News & Shiny, Occulture
Tags: abraxas, bookshops, christina oakley harrington, Magick, occult shops, Occulture, shiny, Spirituality, t thorn coyle, treadwell's bookshop, weiser
Save & Share: Del.icio.us Digg Facebook Stumble it! Tweet