By Psyche | January 12, 2010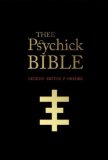 Feral House has just issued a revised and expanded edition of Thee Psychick Bible: A New Testameant
by artist and cultural engineer, Genesis Breyer P-Orridge.
This new edition contains 544 pages of material,1 and comes with a DVD of 120 minutes of material from Psychick TV, Temple ov Psychick Youth, Peter "Sleazy" Christopherson, Derek Jarman, and Genesis Breyer P-Orridge.
From the description found at Feral House:
This signed, numbered limited edition (999 copies only) is also presented with a remarkable DVD of impossible-to-find videos from P-Orridge archives of early Psychic TV and TOPY creations which includes the work of Peter "Sleazy" Christopherson and Derek Jarman. Several of the videos included were seized by Scotland Yard in 1991, and as a result the DVD is provided here are second-generation and are reproduced in this CD for their historical value.

The artist, Genesis Breyer P-Orridge, says about this edition: "It has been a revelation and become very thrilling for me to see 30 years+ of social, ritual and communal creative explorations consensed into what we feel may become the most profound new manual on 'practical magick' taking from its Crowleyan level of liberation and empowermeant of the Individual to a next level of realization that magick must then give back to its environment, its community, become about liberation and empowermeant to change this 'world' and evolve our humanE species."
For more info check out this excellent two part discussion on Dangerous Minds by Richard Metzger with Genesis P-Orridge (Part I, Part II).
Metzger relates how he sought out Genesis P-Orridge in London when he was a teenager, and P-Orridge discusses how s/he sought out hir heroes, William Burroughs and most especially Brion Gysin, in Paris. Which causes me to wonder, is this still done, or do we assume that books and the Internet are enough? Do people still "touch hands"?
They also reminisce about the early days of TOPY, the (sometimes shocking) content of the DVD, the material created from the start, and more recent. It's fascinating to watch their interaction.
Thanks to Cole Tucker for the heads up about the interview on Dangerous Minds!
Footnotes:
For comparison, my 1994 edition published by Alecto Enterprises contains 175 (+2) pp. [back]
Related posts:
Share
Comments: Leave a comment » | Trackback
Category: News & Shiny, Occulture
Tags: alecto enterprises, Books, derek jarman, dvd, feral house, genesis breyer p-orridge, Magick, News & Shiny, Occulture, peter christopherson, psychick tv, temple ov psychick youth, thee psychick bible, topy
Save & Share: Del.icio.us Digg Facebook Reddit Stumble it! Twitter