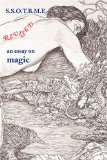 The votes are in, and April's Esoteric Book Club selection is S.S.O.T.B.M.E., written by Lionel Snell as Ramsey Dukes. The full title is Sex Secrets of the Black Magicians Exposed – I love his sensational titles, they have almost nothing to do with the books themselves (see also BLAST Your Way To Megabuck$ with my SECRET Sex-Power Formula
– another book about philosophy).
It's an excellent book, one I've already read several times, and one I recommend highly. I'm thrilled that it was chosen, I think it will make for excellent discussion in April.
The only reason I didn't include it in my list of "Top 5 Books on Chaos Magick" was because S.S.O.T.B.M.E. predated it, but it will be interesting to trace its influence through to today.
April's forum is open and ready if anyone wants to get started a little early, otherwise I'll post a reminder closer to the date.
Hope you'll join us!