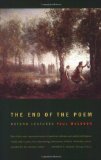 I can't seem to escape Crowley. He's everywhere and in everything. Like q-ball.
I've been reading Paul Muldoon's excellent book, The End of the Poem
, which collects a series of lectures he delivered over five years at Oxford under this title. I'm only about two thirds of the way through The End of the Poem, but I've immensely enjoyed  what I've read so far.1
Each lecture focuses on a specific poem, and Crowley features quite prominently in Muldoon's reading of "Autopsychography" by Fernando Pessoa.
Pessoa first came to my attention when I heard that letters between himself and Crowley were to be auctioned off.2 But after reading this poem, and Muldoon's extrapolations I really want to read more of his work, especially The Book of Disquiet
, several poems of which seem to have been written shortly after Crowley's Book of Lies
first came out, and which may have been directly influenced by it.
Including the account of Pessoa's role in assisting in the charade of Crowley's false suicide:
In September of 1930 Crowley came to Lisbon with a girlfriend, who quarrelled with him at a certain point, and abruptly left Portugal. Crowley, with Pessoa's help, committed a dramatic pseudo-suicide, writing a jilted lover's note left at the Mouth of Hell, a cavernous rock formation on the seacoast west of Lisbon, where Crowley had ostensibly taken a flying mortal leap. He had in fact left Portugal by way of Spain, but Pessoa, who explained to the Lisbon papers the significance of the astrological signs and mystical words that graced the suicide note, also reporting seeing Crowley, "or Crowley's ghost," the day after his disappearance.3
Muldoon's take on Crowley is, well, about what one would expect – a little sensationalist, but not out of line. A brief biography is recounted, his fight with Yates and the Golden dawn – he even quotes a few lines from White Stains.
More interesting is the analysis of Crowley's influence on Pessoa, as he sounds like a fascinating character – or series of characters – in his own right. He wrote under a variety of heteronyms (including at least two which bear the initials A.C.), and seems to have had an unusual sense of identity and disassociation:
Each of us is several, is many, is a profusion of selves. So that the self who disdains his surroundings is not the same self who suffers or takes joy in them. In the vast colony of our being there are many species of people who think and feel in different ways.4
I certainly didn't expect to find Crowley in a – well, proper book about poetry. Outside of "occult circles" (as Muldoon puts it – with the quotation marks), and perhaps a few die-hard metal fans, Crowley rarely warrants a mention. I often forget that he has an impact that reverberates outside these boundaries.
Has Crowley ever turned up unexpectedly in your literary (or otherwise non-occult) wanderings?
Footnotes: