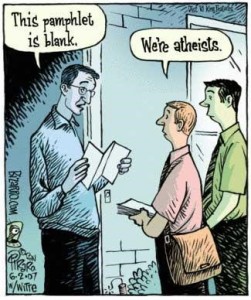 Two stories here. The first features an angry atheist who knowingly targets a group of theists and annoys them. The second features a group of animal-loving atheists willing to look after Christian pets post- rapture. (Seriously.)
Angry atheist
We'll start with John Safran. He's an Australian filmmaker fed up with Mormons knocking on his door who  decided to do something about it: he flew to Utah to knock on doors in Salt Lake City and see how they liked it.
Apparently he made a thing of it, in an eight part "documentary" for Australian television in 2004 called "John Safran vs God".
I spotted this five minute clip from episode five on Scott Michael Stenwick's blog, Augoeides.
Titled "Door-to-Door Atheists Bother Mormons", the first three minutes feature Safran, dressed in a black suit and seated in a red chair in front of a roaring fire, frothing and ranting about the indecency of Mormons knocking at his door early in the morning when he'd rather be resting, or really, doing anything other than being preached at.
Then we get into the good stuff, when Continue reading »