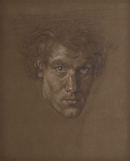 First off, for those who haven't yet seen it, an excerpt from BBC's The Culture Show, which featured a piece on Austin Osman Spare with Alan Moore.
The description given is as follows:
Legendary graphic novel author Alan Moore explores the biggest public art exhibition of Austin Osman Spare for over 50 years, and discovers why Spare, an Edwardian virtuoso artist and occult magician has been left off art history's canon.
The eight minute segment also features Robert Ansell of Fulgur, who discusses Spare's Buddhist influences; Phil Baker, who talks about his origins and career; Geraldine Beskin of Atlantis Bookshop, on Spare's automatic drawings and their spiritual aspect; and Stephen Pochin who curated the recent exhibit at  curated the recent exhibit at the Cuming Museum in London.
Though the best quotes surely come from Alan Moore, who says:
Magick offers the artist a new way of looking at their consciousness and look at where they get their ideas from. [...]

If you can manipulate your own consciousness and perhaps that of others, which is surely something all artists are trying to do, whether their magickians or not, then you will have effected an act of magick. [...]

Spare was a visionary, he was somebody, like William Blake, who was not distinguishing between his art and his spirituality, who felt that the world inside him was as valid and important as the world outside him – if not more so.
(Video and links to two reviews below the cut tag.)
In regards to the exhibition, Austin Osman Spare: Fallen Visionary, which mentioned it back in August, two reviews of interest have surfaced.
The first is by Dave Lee, on Chaotopia, titled "Fallen Visionary, Rising Dark Star: Austin Spare seen in South London", who writes:
This exhibition is the first in a public gallery since Spare's death in 1956, and situated on the Walworth Road it brings the rich contrasts of his life into focus better than any I've seen. On the one hand, we have a description of Spare by one journalist as 'a scruffy tramp living in a cellar,' and on the other, we see a fantastically rich inner life, the world of a truly free man.
Gordon White of Rune Soup also wrote a review called "Austin Spare Exhibition: Do You Want To Be Happy Or Interesting?" Except, it isn't so much a review as an affirmation that the only life worth living is an interesting one.  As Gordon says:
Spare certainly chose an interesting life over a happy one. When he exhibited at the Royal Academy at just seventeen years of age (the youngest ever to do so), the consensus opinion was that he was probably a genius. Give him another season or two to get the "grotesque, raw, animalistic, tribal" influences out of his draughtsmanship and he will go very far. Edwardian sensibilities were a lot more optimistic, they valued aesthetic beauty over emotional impact. His artwork, simply put, made them uncomfortable.
Also check out his snap on Posterous from the exhibit itself. (If only the exhibit existed last year, when I was actually in London…!)
The exhibit closes today, so if you're in the area – this is your last chance.
Category: News & Shiny, Occulture
Tags: alan moore, altantis bookshop, Art, austin osman spare, bbc, chaotopia, dave lee, fulgur, geraldine beskin, gordon white, Magick, Occulture, phil baker, robert ansell, rune soup, stephen pochin, william blake
Save & Share: Del.icio.us Digg Facebook Stumble it! Tweet