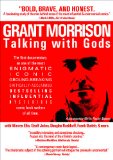 Grant Morrison: Talking With Gods, directed by Patrick Meaney
Halo 8, 80 minutes, 2010
I suspect there are only a few kinds of people who'll be interested in the documentary Grant Morrison: Talking With Gods – either serious documentary fans, devoted comic-book readers, or magical practitioners. Each of them will come away from this film quite happy.
Director Patrick Meaney largely works with a familiar pattern for this kind of celebrity documentary – one of mostly stepping back and letting the interviews (and, of course, editing) tell the story. There are several attempts to visually represent the psychedelic elements of the tale created by cinematographer Jordan Rennert, though the results are far less annoying than is often the case in such films! The perspective is mostly one which aims at the comic-reading audience, introducing them fairly gently to the core of occult thought that permeates his work.
The film opens with a montage of several comic-book writers and artists talking about Morrison's reputation as a very successful comics creator who is also out as a practicing chaos magician who's no stranger to psychedelics – and the usual kind of "drug-crazed madman" rumours that inevitably follow. Continue reading »