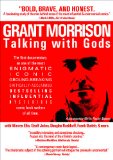 Talking With Gods
is new documentary about Grant Morrison with the tag line "See the true story of a fictional life." Nice.
Directed by Patrick Meaney, the film was previewed at Chicago's C2E2 Comic Con. After the screening, it was picked up by Halo-8. (Click for an excerpt of the film on Halo-8′s blog.)1
It includes interviews with a number of Morrison's collaborators, such as Warren Ellis, Douglas Rushkoff, Geoff Johns and more.
The film won't be released on DVD until November 22nd, 2010, but the Internet's already abuzz. For early reviews check out Coilhouse and io9.
For more Morrison check out this interview on Wired.com, and hey, he's now on Twitter.
Update: Thanks to @catvincent who pointed out that the film can be purchased for 10$US as a legal downloaded from Halo-8′s online store right now.
Footnotes:
Upcoming screenings in Orlando, London, Melbourne and Athens. For more information see the film's website. [back]
Comments: Leave a comment » | Trackback
Category: News & Shiny
Tags: coilhouse, douglas rushkoff, geoff johns, grant morrison, halo8, io9, Magick, News & Shiny, Occulture, patrick meaney, Reviews, warren ellis
Save & Share: Del.icio.us Digg Facebook Stumble it! Tweet