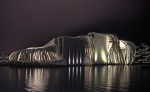 Well, kind of.
The excellent blogTO reported on Mirko Daneluzzo's design for the Canadian Malting Complex on Toronto's waterfront, and it's rather unusual (though nowhere near as bad as the ROM Crystal).
Click on the picture to enlarge, or click here for more images.
It's unlikely to ever make it past the design stage, but it looks really nifty, and, as my husband noted, it looks like "some sort of giant temple to Cthulhu". Which makes it kind of awesome.