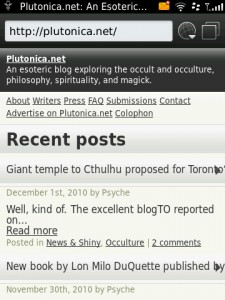 Two weeks ago ahrfoundation.org and its readers received a late birthday gift, today it receives an early Giftmas present.
I recently received a Blackberry Torch
(I love it!), and trying to view this site on it was a bit of a pain. Can't do with that.
So, I tested a bunch of mobile plugins to see which worked the best, and WordPress Mobile Pack won, hands down.
I chose the simple grey theme as it seemed the most straightforward (pictured left). I may play around with others, but I like the stripped down look of this one.
It lists the most recent posts, comments, and pages, but nothing else at the moment.
If you're so inclined, take a look and let me know what you think.
In other news: I'm working on a couple of reviews for our sister site, SpiralNature.com, and a massive links list for this week's Saturday Signal. Lots of round ups planned, and a gifts guide for the occultniks on your list.
Good stuff.