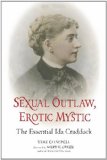 My review of Sexual Outlaw, Erotic Mystic: The Essential Ida Craddock
, by Vere Chappell (Weiser, 2010) is up on SpiralNature.com here.
Craddock was indeed a remarkable person, but some of her notions about what was proper are… Well, here's a quote from her 1900 treatise, "The Wedding Night":
To approach a woman's genitals with the finger for the purpose of excitation, is distinctly masturbative, and therefore wrong. The only lawful finger of love at her genitals is his sexual love organ.1
It's almost cute.
Actually, Craddock's forthright approach to sex was fairly unique for its time, though much of what she wrote seems antiquated today it's still a fascinating read.
A reminder that @WeiserBooks Twitter book club begins on Monday, so if you don't have your copy yet hopefully you can pick it up over the weekend.
Also, @Frater_Puck informs me that an interview with Vere Chappell will be up on the podcast ThelemaNow.com in the near future.
And, because I'm a big nerd, I took a photo of my notes and the beginnings of my review and posted them on my other blog. So there's that, too.
I received a copy of Heaven's Bride: The Unprintable Life of Ida C. Craddock, American Mystic, Scholar, Sexologist, Martyr, and Madwoman
as well. Haven't read it yet, but I will let you know once the review is posted.
Any more Craddock news, anyone? At this rate I'm going to be Craddocked out by 2011!
Footnotes:
sic., p. 196 [back]
Category: News & Shiny, Occulture
Tags: biography, frater puck, ida craddock, podcasts, quotes, Reviews, sex magick, Spirituality, thelema now, vere chappell, weiser books
Save & Share: Del.icio.us Digg Facebook Stumble it! Tweet